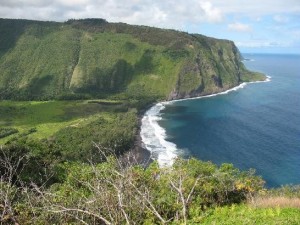 Waipio Valley and Overlook is one of the most awe-inspiring attractions in Hawaii.  However, going there is not an easy task. The valley is about 1 mile/1.5km wide and is difficult to reach because of the steep cliffs on the three landward sides. Strong waves make it equally unapproachable from the sea.
There is a steep and twisting road into the valley which allows access by car or by foot. But most car rental companies do not allow their vehicles to be driven down into the valley so some people choose to walk down the road instead.
Located on the north-eastern coast of Big Island, about 50 miles/80km north of Hilo, Waipio Valley and Overlook offers a spectacular view of the Kohala Mountain as it meets the sea. The view is all worth the trip.
The fertile valley floor is peppered with fruit-bearing trees such as bananas, papayas, mangoes, avocados and grapefruit while colorful flora like ginger trees, orchids and hibiscus decorate the landscape.
As many of the local people will tell you, it was in this area that the movie "Waterworld" was filmed.