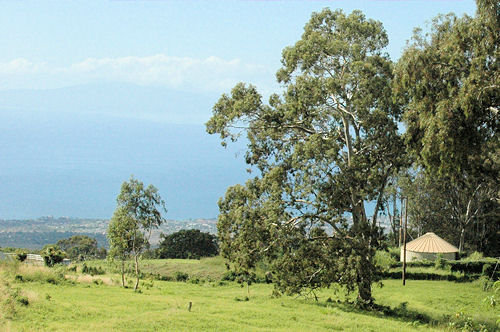 Sun Yat-Sen Memorial Park is a quaint roadside park in Keokea between mile markers 18 and 19. Located 2,400 feet above the south Maui coast, the park  offers spectacular ocean views of Kahoolawe and the Molokini Atoll. Sunsets at this vantage point are breathtaking displays of colors.
The park was dedicated to Dr. Sun Yat-Sen, a Chinese political leader who was also the first president of the Republic of China when it was founded in 1912. The piece of property the park is sitting on was donated by the Ulupalakua ranch in 1989.
The Sun Yat-Sen Memorial Park features a bronze statue of Yat-Sen along with a few other memorial statues. This is not the only location in Hawaii which venerates the Chinese revolutionary hero. There are other historical markers which honor Yat-Sen in various parts of Honolulu, including another park named after him and features a statue depicting the thirteen-year old Chinese leader located in downtown Honolulu's Chinatown.
Hawaii's recognition of the Chinese political icon stems from the fact that Yat-Sen came to Honolulu from Zhongshan, China in 1879 to study. He stayed with his brother Sun Mei who owns a cattle ranch in Kula on the island of Maui. Yat-Sen attended the Iolani School and Punahou School.
Keokea's Sun Yat-Sen Memorial Park provide an excellent view of the Puu Olai cinder cone in Makena State Park, the uninhabited island of Kahoolawe and the crescent shaped Molokini island to the left. Directly ahead is Lanai and to the right are the mountains of West Maui. For an unforgetable experience, try to catch the sunset at the park which is one of the best in Hawaii.
There are picnic tables and chairs which visitors can use while having lunch and enjoying the views.
Sun Yat-Sen Memorial Park in Maui, Hawaii Photos