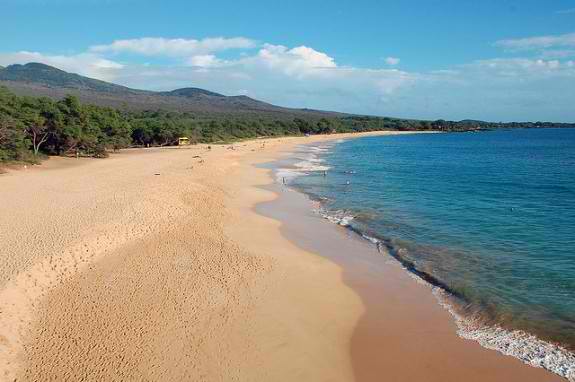 Big Beach, also known as "Oneloa Beach" and "Makena Beach," is one of the numerous beaches in the vast Makena State Park in Maui.  At 1.5 miles (2.4 km) long and more than 100 feet (30 m) wide, the Big Beach is considered as one of the widest stretch of sand in the island. At its northern end lies Little Beach, also known as "Puu Olai Beach," one of the few Hawaiian beaches where nude sunbathing is tolerated. The two beaches are separated by a steep hill of lava outcropping which is actually the tip of Puu Olai, also known as Red Hill or Earthquake Hill.
The light golden sand of Big Beach is soft and kept cool by the "Makena cloud" that stretches from the top of Haleakala to Kahoolawe, perfect spot for soaking up some sun or a picnic. The clear blue water looks inviting but don't be easily deceived by its beauty. While the shore is fairly protected from wind, the break can be deceptively strong making it an accident prone beach.
Strong currents are also common making the water unsafe for inexperienced swimmers and young children. Big Beach is a popular boogie and body boarding site but only the adventurous and those familiar to its reputation dare get into its water. The numerous cases of serious injuries sustained from its rough waters are enough to keep this beach uncrowded.
The beach's southern section sometimes offers calmer water conditions. Nevertheless, this area still doesn't attract huge crowds compared to other Maui beaches. Being part of the 160-acre undeveloped Makena State Park gives this beach a remote and secluded feel. Bordering the beach are lush vegetation and trees offering shady spots for relaxation and just enjoying the ocean views.
Despite the dangerous surf conditions, this beach is still a must visit when in Maui if only for the large expanse of sand and spectacular views of Molokini and Kahoolawe islands.
Facilities include parking, toilets, changing rooms, lifeguards, picnic tables and food trucks in the parking lot.
The Big Beach is on the South of Wailea, roughly a 50-minute drive from Lahaina. It is open daily from 6am - 6pm.