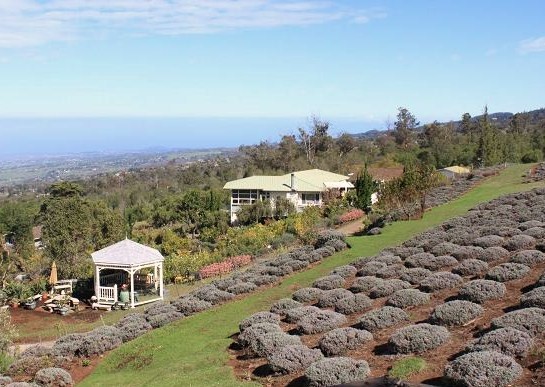 The Ali'i Kula Lavender Farm is a 13.5-acre farm growing a wide array of lavender varieties as well as other plants such as olives, hydrangea, protea, succulents and other native Hawaiian plants. It is located in Kula, about 4,000 feet atop the slopes of Mt. Haleakala in East Maui, Hawaii.
The farm was established by Agricultural Artist and Horticultural Master Ali'i Chang in 1988 and was opened to the public in 2002. It features approximately 55,000 lavender plants and 45 different varieties. Lavender is not endemic to Hawaii but Ali'i was able to make the plants thrive in his farm, blooming profusely in spring and summer. Seven varieties bloom all year round!
Ali'i Kula Lavender Farm offers the first and only Lavender Walking Tours in Hawaii. The tours give guests opportunities to get acquainted with different lavender varieties and experience their calming and relaxing properties. The elevated location also offers spectacular views of Maui's central valley. Products made from the farm's lavender blooms, such as food items, tea, aromatherapy and bath products are also sold in the gift shop.
Apart from walking tours, the farm also offers cart tours,treasure hunts for kids, gourmet picnic luncheons, and art & crafts classes (holiday ornaments and wreath-making). Different fees apply to these activities. The farm can also be rented for weddings and other special events.
The Ali'i Kula Lavender Farm is located at 1100 Waipoli Road, Kula, Maui, Hawaii. It is a little over an hour drive from Kaanapali (west Maui) and a little under an hour from Kihei (south Maui). It is open daily, from 9am to 4pm. Admission is $3.
Save