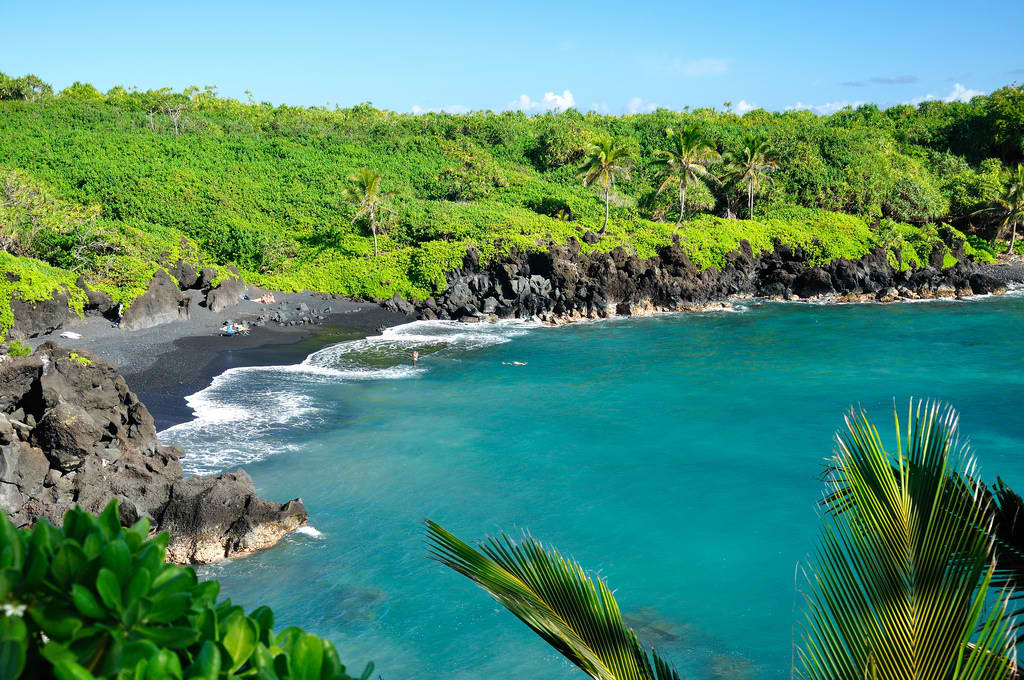 The Waianapanapa State Park is a wayside park located at mile marker 32 on the Hana Highway, along  Maui's eastern shore. The secluded 122-acre park boasts of a low-cliffed volcanic coastline, seabird sanctuary, anchialine pools, native hala forest, heiau (religious temple), and natural coastal formations including a stone arch, sea stacks and blow holes.
There is also a small black sand beach called Honokalani Beach. With no outside reef to break the force of the waves and current, swimming is dangerous and should be avoided here.
The dangerous waters should not be cause for disappointment as there are other noteworthy attractions at the Waianapanapa State Park such as the legendary Waianapanapa Cave. The cave has a narrow entrance that widens as it leads to an open view of the ocean at the other end.
According to an ancient legend, a Hawaiian princess named Popoalaea fled from her cruel husband, the Chief Kakae, and hid on a ledge just inside the underwater entrance to the cave at Waianapanapa. A faithful maid sat across from the princess, fanning her with a feather Kahili, a symbol of royalty. Unfortunately, the chief Kakae saw the reflection of the kahili in the water and discovered Popoalaea's hiding place and killed her in a murderous rage. During spring, millions of red endemic shrimp, 'opae 'ula, (Halocaridina rubra), hatch in the cave's brackish water giving it a red hue. Some say it is a reminder of the blood of the slain princess.
Park facilities include restrooms, showers, picnic facilities, camping area, cabins, parking and hiking trails. There are no lifeguards. Admission is free.
Waianapanapa State Park is located off Highway 360E (Hana Highway). Just beyond mile maker #32, turn left onto the paved road.Wai'anapanapa State Park is at the end of this road. The cave is situated next to the black sand beach.