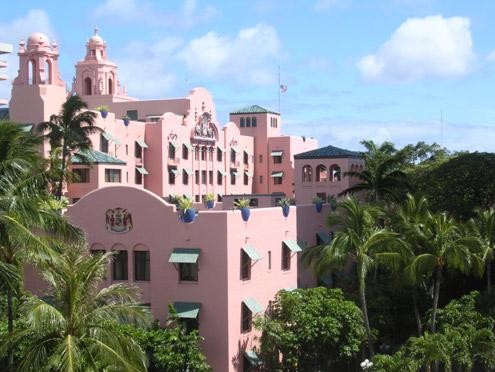 Address 2259 Kalakaua Avenue, Honolulu - Hawaii
Description The Royal Hawaiian Hotel, also known as the "Pink Palace of the Pacific", is located at 2259 Kalākaua Avenue in Honolulu, Hawaii, on the island of Oahu. It is one of the first hotels established in Waikiki and is considered as one of the flagship hotels in Hawaii tourism.
It formally opened February 1, 1927 with a black tie gala attended by over 1,200 guests and quickly became an icon of Hawaii's glory days. It was the Hawaii residence or Western White House of President Franklin D. Roosevelt.
It's unique Moorish architecture, spectacular setting and celebrated history makes it an exclusive enclave for luxury and romance.
Hotel Features
529 rooms, including 34 suites, 18 are oceanfront
66,000 square feet of outdoor function space
stunning, oceanfront Monarch Terrace
spectacular Ocean Lawn with its 9,900 square feet
legendary Coconut Grove with its 56,000 square feet
12,000 square feet of indoor meeting space
breathtaking and historic Monarch Room with its 7,800 square feet
elegant and regal Regency Room with its 4,032 square feet
Two pools, an interactive resort pool experience and a relaxing saltwater plunge pool and private beach area
Exceptional dining and traditional Hawaiian entertainment
Full-service spa and salon