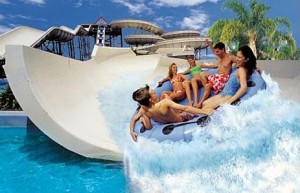 Address 400 Farrington Highway, Kapolei, HI 96707
Phone 1 (808) 674-9283
Website http://www.wetnwildhawaii.com/
Wet'n'Wild Hawaii (formerly known as Hawaiian Adventures Water Park) holds the distinction of being Hawaii's only waterpark.  This 29-acre park features lush tropical gardens, water slides, water falls, water cannons, bodyslides, a tube cruise, arcade, lagoon and interactive children's playground.
It has become the leading family attraction on the islands because of its more than 25 rides like the Tornado which catapults riders through a 130-foot tunnel into the swirling, raging waters and down into a splash down pool.  Another popular attraction is the relaxing Kapolei Kooler, a winding lazy river ride.
Recently, the water park debuted a brand new attraction called the Waimea Whirl.  The 30-second ride launches a two-person inner tube from the top of a rainbow-colored slide then propels riders into a large, round, 30-foot bowl.  Jets of water swirl the riders around the bowl's perimeter two to three times, then flushes them out through a second slide before ending with a splash.