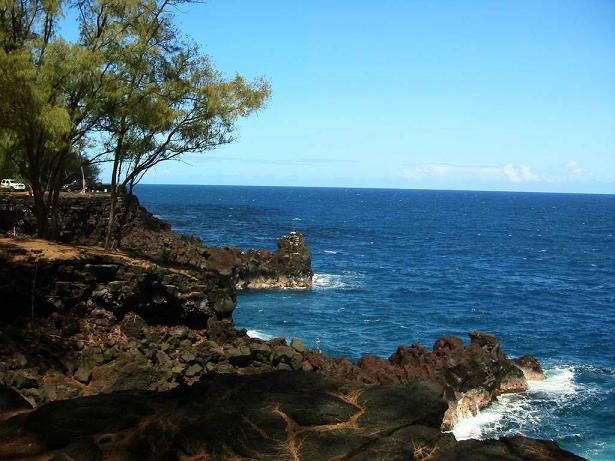 MacKenzie State Recreation Area is a 13-acre public park located in Opihikao on the rugged coastline of Puna in the Big island, Hawaii. It offers spectacular views of the Pacific Ocean, wooded areas ideal for camping, hiking trails and picnic areas. The park is in an ocean front location, bordered by sea cliffs. There is no sandy beach and the rocky ocean bottom plus massive waves make the area unsafe for swimming.
The state park is named after Albert J. MacKenzie, a renowned Big Island forest ranger who died in 1938. Located on the east rift zone of Kilauea, one of the world's most active volcanoes, the park 's landscape consists mostly of rocks and dried lava, softened only by a lush ironwood forest. Many of these towering ironwood trees were planted by MacKenzie himself.
Along the cliffs' edge are caves, sea arches and lava tube openings, most of them a result of decades of volcanic activity. The park offers excellent shore fishing.
Park amenities include restrooms, picnic tables and benches, covered pavilion and camping facilities. Camping permits from the Hawaii State Park Division are required.
Because of its remote location, MacKenzie State Recreation Area is usually always deserted. The peace and quiet plus the park's dark history make it live up to its reputation as one of the most haunted places on the island.
According to legends, the park was built by prison convicts in the late 1850s. Many of the convicts died while working on the park due to the hot humid climate, lack of sanitized water, and outbreak of diseases. Their bodies were presumed buried somewhere in the park. Many locals and visitors have claimed to witness ghostly apparitions of unshaven men carrying pick axes at the park during sunset.
The park is also known for the "night marchers," or the marching ghosts of ancient Hawaiian warriors, which usually appear during moonlight nights or rainstorms. According to a local legend, the "night marchers" passes through the King's Highway, an ancient coastal rock trail built by King Kamehameha the Great who ruled the Hawaiian islands from 1795 to 1819. The trail encircled the entire island and part of it traverses the MacKenzie State Recreation Area.
Numerous murders were also reported in the park including a couple campers beaten to death outside their tent in the 80's, a 16-year-old high school girl who was kidnapped and raped by three men in 1993, and most recently, the mysterious death of a local surfer who was found at the park's sea cliff riddled with bullet wounds in 2008.
Save