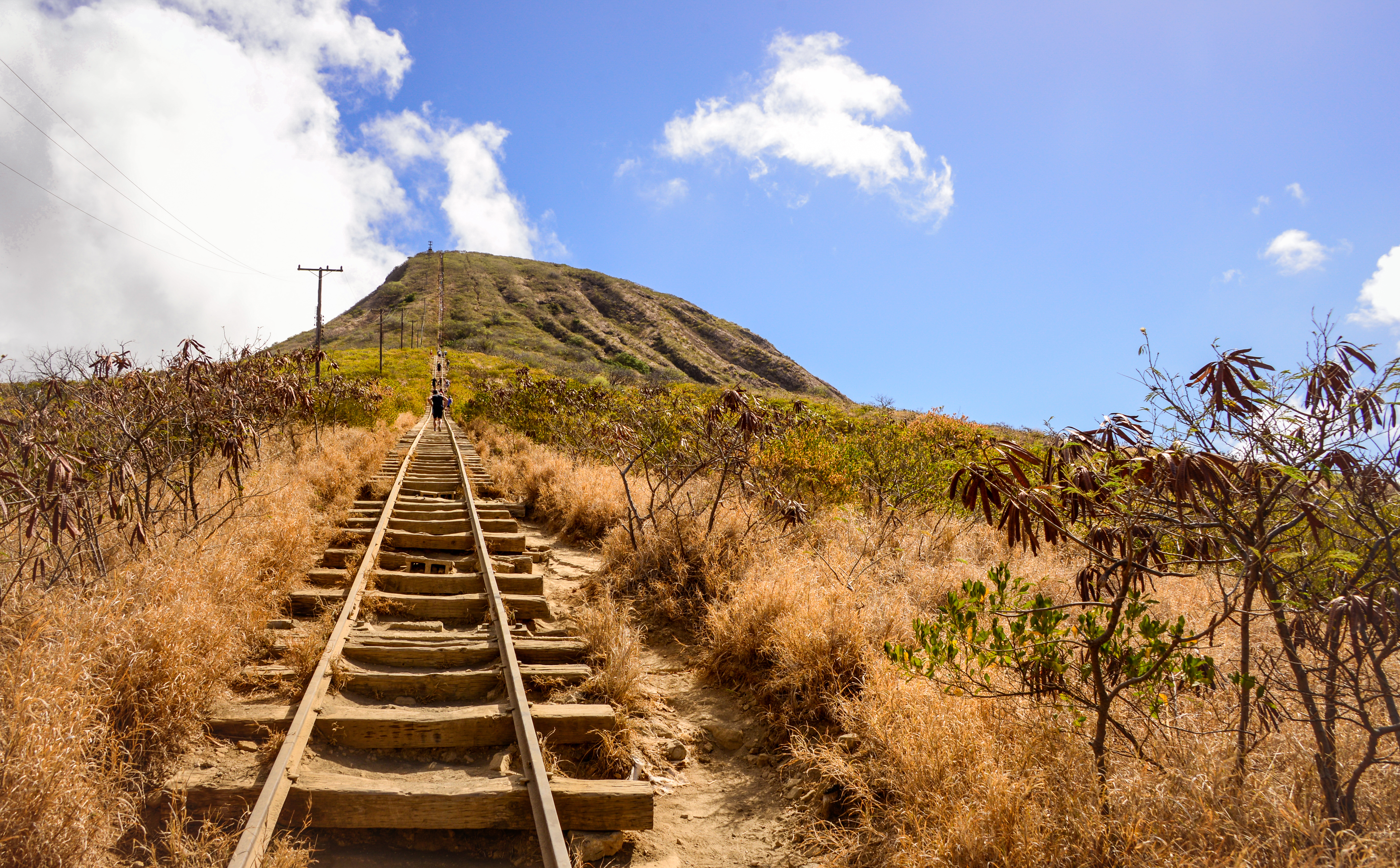 Koko Crater is a cinder cone that was formed about 10,000 years ago by the last volcanic action on Oahu. Not to be confused with the neighboring Koko Head, Koko Crater is known as the tallest tuff ring in Hawaii rising to 1,207 feet or 368 meters. It is one of the most popular landmarks in East Honolulu, Hawaii.
A hiking path, more popularly known as Koko Crater Trail, leads to the summit of Koko Crater and is one of the most popular attractions on Oahu's south shore. At the top of the trail is the 60-acre Koko Crater Botanical Garden which covers the inner slopes and basin of the crater.
The Koko Crater Trail is a short (about 1.5 miles) but challenging ascends on 1,048 steps made from railroad ties. The ties were originally part of an incline tram system built during the Second World War to haul military personnel and supplies to the top of Koko Crater.
This trail is not for everybody. It can get crowded at times but it doesn't mean the climb is an easy one. In fact, a lot of people do not finish the trek to the top. But those who were able to reach the summit swear that the effort is well worth it! The lookout point at the top offers spectacular 360 degree views of Honolulu, Koolau Mountain range, Southeastern shore and Molokai on clear days. Apart from enjoying the views, hikers can check out other attraction on the crater itself such as the horse stables and the Koko Crater Botanical Garden, home to many cacti and succulents. Admission to the Koko Crater Botanical Garden is free of charge. Opening hours are from sunrise to sunset daily.
There are sections of the trail that have very sharp incline that can get a bit slippery. Wear good hiking shoes or any footwear with excellent traction. About halfway up the trail is a bridge that crosses a ravine. It looks dangerous and intimidating but is actually safe. Hikers can take an adjacent foot trail as an alternative.
It takes about 1 to 2 hours to finish the hike depending on your fitness level, time spent at the summit and breaks. It is very hot and dry so wear a hat and bring plenty of water and sunscreen! The best time to visit is early mornings and during overcast days.
Koko Crater Hawaii Photos