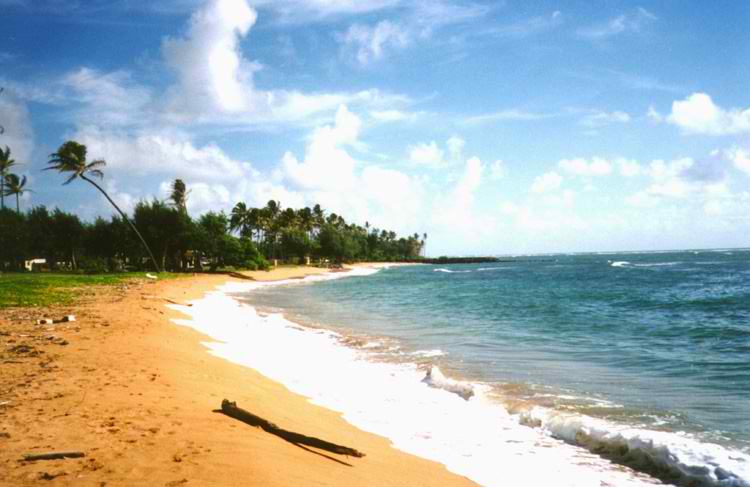 Kapaa is a quaint plantation town North of Wailua on Kauai, Hawaii. It sits on the base of the Nounou Mountain, also known as the Sleeping Giant. The town used to be an agricultural area with sprawling sugar cane and pineapple fields, some of the largest on Kauai. Today, Kapaa is a tourist friendly destination with streets lined with a diverse array of shopping centers, restaurants and hotels.
The Kinipopo Shopping Village is a favorite for its fun eateries and small keepsake shops. Other shopping destinations in Kapaa are the Wailua Shopping Plaza, which houses several restaurants and an eclectic antique shop, and the Coconut Marketplace, with dozens of shops in which you'll find Hawaiian mementos, fine artwork, antiques, jewelry and craft items. Look for the "Kauai Made" logo for products made by local craftsmen using traditional materials.
Kapaa also offers water sports, including water skiing and kayaking.
The town also boast of some of the area's most beautiful beaches. There are shops that carry everything you need to purchase or rent for a water adventure such as surfing, kayaking and scuba diving.
The Hoopii Waterfalls is another popular attraction in Kapaa. The falls is located at the North end of the town and involves a moderate two-hour hike.
The nearby Nounou Mountain also offers numerous nature trails for the adventurous including a path leading to the Sleeping Giant's summit which offers unobstructed and magnificent views of the Pacific Ocean to the East, the Wailua River State Park to the South, and the usually cloud-shrouded foothills of the Kawaikini and Waialeale Mountains to the North and West.
Old Kapaa Town Kauai Photos