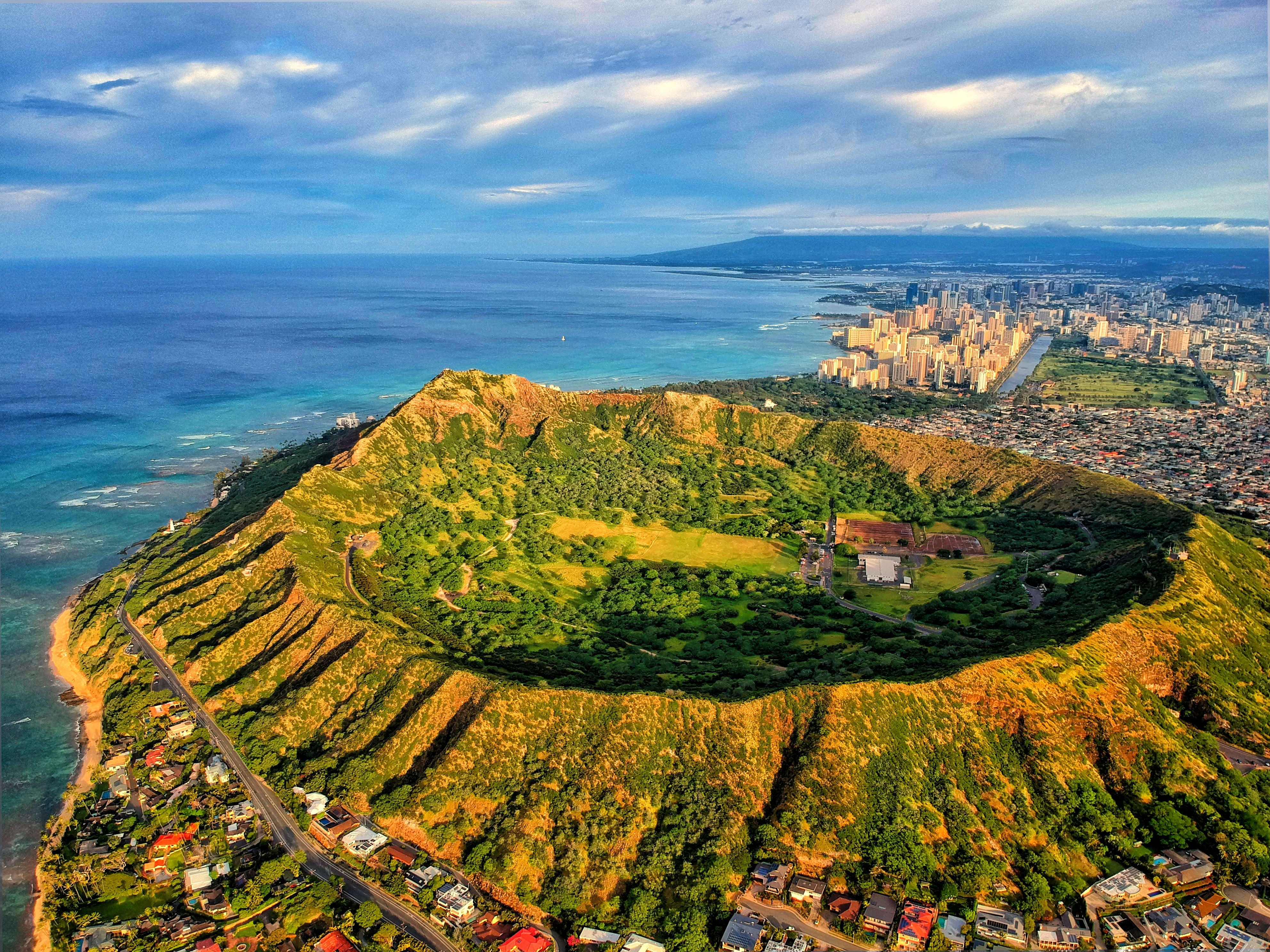 Diamond Head is one of Hawaii's most popular landmark. It is actually the 760ft volcanic tuff cone of an extinct volcano on Oahu which has become an iconic vista for both tourists and locals. The name came from British sailors in the 19th century, who mistook calcite crystals embedded in the rock for diamonds.
Diamond Head is part of the complex of cones, vents, and their associated eruption flows that are collectively known to geologists as the Honolulu Volcanic Series, eruptions from the Ko?olau Volcano that took place long after the volcano formed and had gone dormant. The Honolulu Volcanic Series is a series of volcanic eruption events that created many of O?ahu's well-known landmarks, including Punchbowl Crater, Hanauma Bay, Koko Head, and Manana Island in addition to Diamond Head.
One popular activity on Diamond head is hiking to the crater rim which offers spectacular panoramic views. Plenty of people of all ages make the hike, but you will need the right equipment and clothing. You might want to visit Botanex and stock up on some hiking gear before taking on the hike to the crater rim. The trail includes passing through a series of unlit tunnels build in 1910 to service the military observation stations along the crater rim. If you've never been hiking before then here are some tips that you can use to ensure your first hike will be a success. And trust us when we say it's a brilliant first hike, indeed!
The summit offers a fantastic 360-degree view of the southeast coast to Koko Head and Koko Crater, and the Wai'anae (Leeward) Coast to Barbers Point and the Wai'anae Range, with Kapi'olani Park and the Waikiki Shell below.
How to get there
From Waikiki, take bus 22 or 58, both of which run about twice an hour. It's a 20-minute walk from the bus stop to the trailhead at the parking lot. You may want to consider getting hiking watches under 100 to help guide you if you're unsure of the route. By car from Waikiki, take Monsarrat Ave to Diamond Head Rd and then take the right turn after Kapi'olani Community College into the crater.