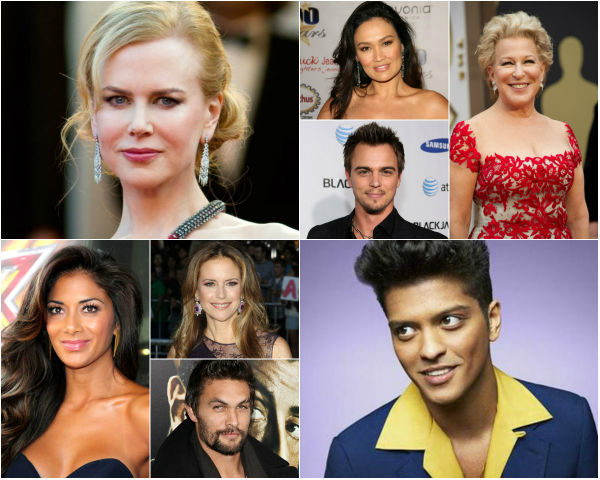 Apart from being home to some of the world's most spectacular beaches, majestic mountains and warm multi-cultural people, Hawaii's capital city Honolulu is also the birthplace of several famous personalities.  Honolulu-born celebs include one of the most powerful men in the world, US President Barack Obama, and a host of artistic individuals who have conquered the global entertainment scene.
Actress Nicole Kidman was born in Honolulu, Hawaii on June 20, 1967.  Her Australian father was a graduate student at the University of Hawaii at Manoa when she was born. The family returned to Australia when Kidman was four years old.
Grammy Award winner Bruno Mars was born (October 8, 1985) and raised in the Waikiki neighborhood of Honolulu, Hawaii.  At age 17, Mars moved to Los Angeles, California, to pursue a musical career.
The Divine Miss M, Bette Midler, was born on December 1, 1945, in Honolulu, Hawaii.  She grew up in Aiea and went to the University of Hawaii, majoring in Drama.  Her first foray into show-business was as an extra in the 1966 film, Hawaii.
Pussycat Dolls' front-liner Nicole Scherzinger was born in Honolulu, Hawaii on June 29, 1978.  Her parents separated when she was still a baby.  When she was six, her maternal family moved to Louisville, Kentucky.
Actress Tia Carrere was born on January 2, 1967, in Honolulu, Hawaii.  She was spotted by a local producer while shopping at a Waikiki grocery store and was cast in the movie Aloha Summer.
Hollywood actor and  John Travolta's wife Kelly Preston was born on October 13, 1962, in Honolulu, Hawaii.  She went to Punahou School and studied drama and theater at the University of Southern California.
Nikita star Maggie Q was born on May 22, 1979, in Honolulu, Hawaii. After high school, she left Hawaii to work as a model in Southeast Asia to fund her college schooling.  While in Hong Kong, she was spotted by Jackie Chan who cast her in Manhattan Midnight and Rush Hour 2.
Gilmore Girls and Parenthood's Lauren Graham was born on March 16, 1967, in Honolulu, Hawaii.  Her family moved to Japan and eventually to Alexandria, Virginia along with her father when her parents divorced.
Darin Brooks of  Days of Our Lives fame was born and raised in Honolulu, Hawaii.  He went to the University of Hawaii Manoa but moved to L.A. after a semester to pursue a career in acting.
Actor Jason Momoa was born on August 1, 1979, in Honolulu, Hawaii.  His mother raised him in Iowa but he returned to the islands to reconnect with his father in his teens.  When he was 19 years old, he worked part-time in a surf shop where he was spotted and cast in Baywatch Hawaii.
Save
Save