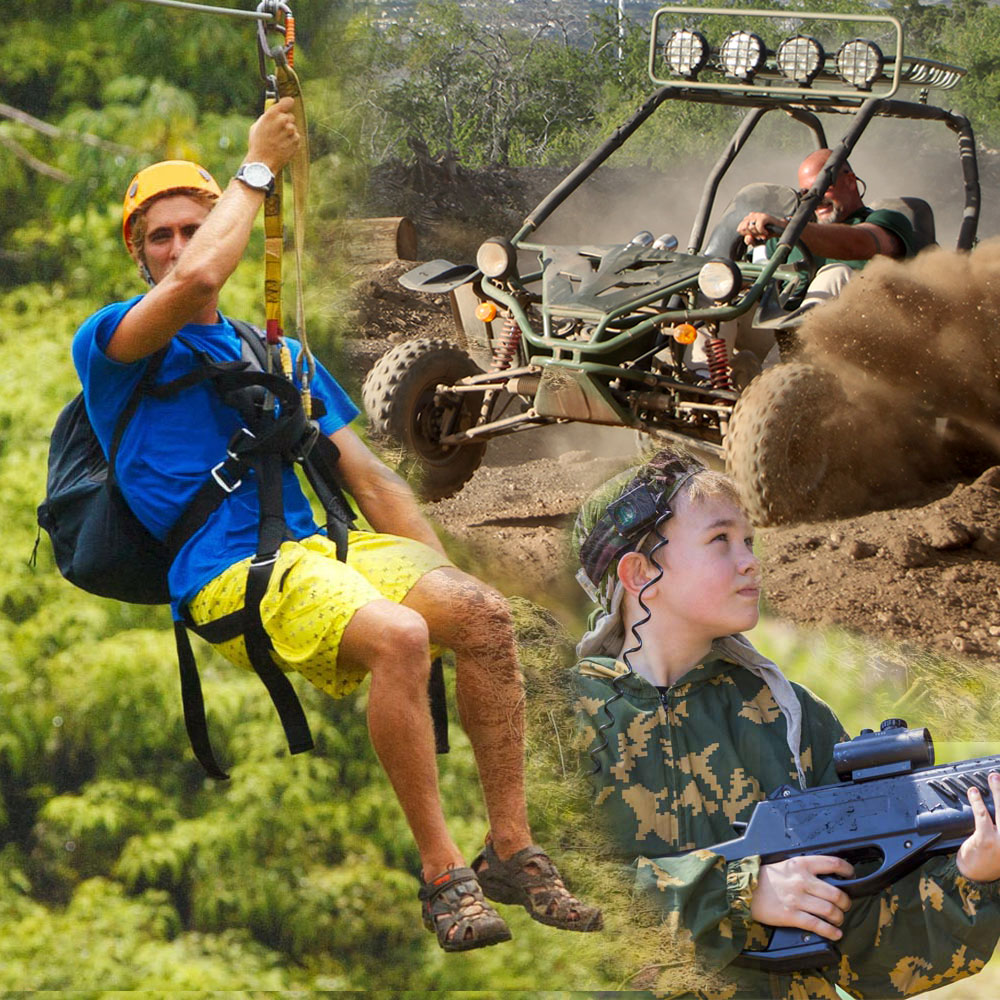 Coral Crater Adventure Park is a 35-acre state-of-the-art adventure park on a former U.S. Navy coral quarry on the island of Oahu. First opened to the public in January 2017, the park features two multi-use areas: a 10-acre crater for adventure activities, and a 6,000-square-foot lawn, observation deck and landscaped picnic area that is open to the public with no entry fee. Barbeque grills, imu (underground oven) pits and full-service supplies are available for private luaus and events, and are ideal for team-building meetings, celebrations and family gatherings.
The park offers a wide range of fun and exciting activities for every age such as:
ATV tour on 1 mile of off-road terrain packed with hairpin turns
Aerial adventure tower with 18 challenge elements
50-foot free-fall experience
Climbing and rappelling wall
50-foot giant tandem King Swing
6-line zip line course (for ages 6 and up; includes tandem and nighttime experiences)
Electric mountain bike tour
Zombie Apocalypse tactical live-action laser tag
Activities are available in packages or ala carte, allowing guests to pick only the activities they enjoy without paying for those they don't need. All essential safety and rental gear, such as helmets and harnesses, are included with entry.
The park was designed and built by the nation's top engineers and contractors in the adventure park industry and employs friendly and specially trained staff that ensure a safe and fun experience for guests of all ages and experience levels.
Coral Crater Adventure Park also boasts an eco-friendly design that reduces environmental and community impact such as the use of solar power, seabird-friendly lighting, extensive recycling and composting measures, gray-water recycling and bio-friendly cleaning materials.
Coral Crater Adventure Park is located at the intersection of Roosevelt Avenue and Enterprise Street at 91-1780 Midway Road in West Oahu (just a half-hour from Waikiki and a short drive from the Ko Olina Resort area). It is open daily from 9 a.m. to 5 p.m. To plan your adventure, visit www.coralcrater.com.
Photo credit: www.coralcrater.com