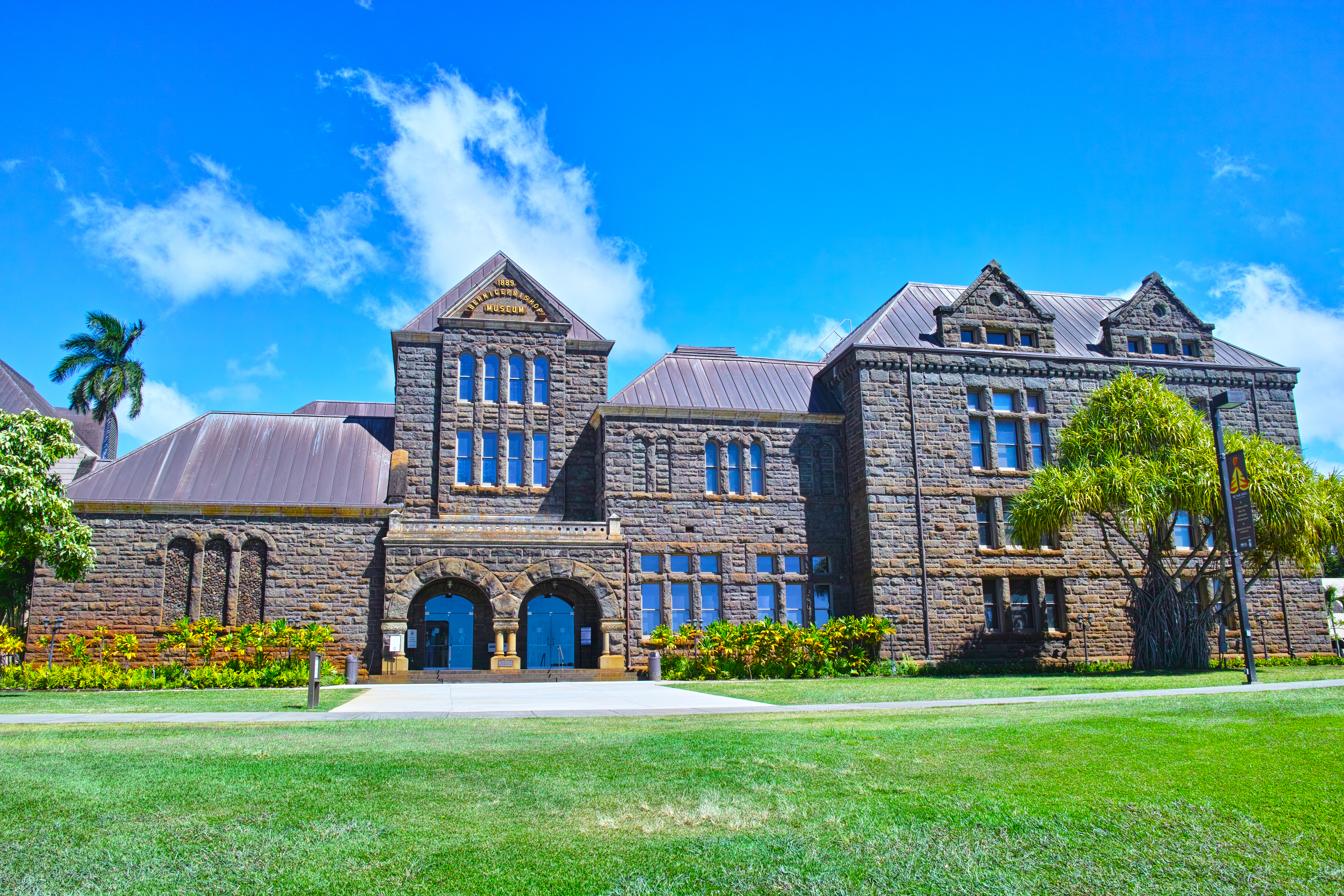 Centuries-old Bishop Museum (formerly called the Bernice Pauahi Bishop Museum), is a museum of history and science in the historic Kalihi district of Honolulu, Oahu. The museum was founded in 1889, housing the world's largest collection of artifacts representing the native culture of the Hawaiians, historical publications, manuscripts  and other works of art . It also has an extensive entomological collection of over 13.5 million specimens, considered as the third largest collection in the United States.
The museum was built by philanthropist Charles Reed Bishop in memory of his late wife, Princess Bernice Pauahi Bishop, the last direct descendant of King Kamehameha I.
Bishop Museum has numerous massive exhibition halls featuring a variety of Hawaiian treasures. The newly-restored Hawaiian Hall displays royal family heirlooms and other impressive artifacts including a 50-foot sperm whale.
The Jhamandas Watumull Planetarium, the museum's very own planetarium, offers daily sky and star shows.  The "Science On A Sphere," a state-of-the-art educational tool designed to project images of the Earth and other planets, changing and historical weather patterns and other scientific data sets on a six-foot white fiberglass sphere, is also found here.
Abigail Kinoiki Kekaulike Kāhili Room displays precious kāhili (feather standards) associated with the Hawaiian monarchs. Pākī Hall is home to the Hawaii Sports Hall of Fame and the Bishop Museum Library and Archives.
The Polynesian Hall houses Pacific Island artifacts from Polynesia, Micronesia and Melanesia, while the Mamiya Science Adventure Center offers interactive exhibits about volcanology, oceanography, and biodiversity of Hawaii and the Pacific.
Located at 1525 Bernice St. in Honolulu, the Bishop Museum is open daily from  9 a.m. to 5 p.m. (except Tuesdays and Christmas). It is accessible on public transit: TheBus Routes A, B, 1, 2, 7, 10.
Bishop Museum Photo Gallery