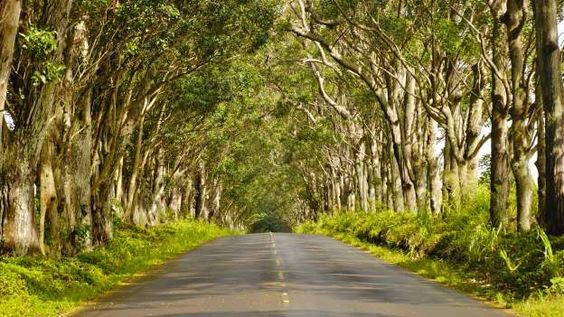 A trip to Kauai, the Garden Isle, wouldn't be complete without driving through the breathtaking Tunnel of Trees on Highway 520. The picturesque tunnel was formed by 500 eucalyptus trees that line both sides of Maluhia Road, creating a natural canopied gateway to Kauai's South Shore.
The original 500 trees were planted in 1911 as a gift to the community from Pineapple Baron Walter McBryde. The beautiful trees were leftover from a large landscape project of his estate home, now the grounds of the Kukuiolono Park and Golf Course.
Huricane Iniki, the most powerful hurricane to strike Hawaii in recorded history, stripped these trees down to bare branches in 1992. The trees have since recovered and now boast of lush canopies.