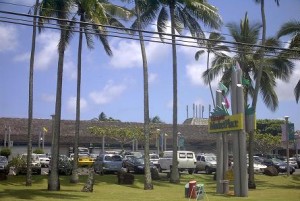 The Coconut Marketplace in Kapa'a is an open-air market and is considered as Kauai's largest shopping facility. It houses more than 70 shops and restaurants, easily making it a must-visit shopping and dining destination in Kauai.
This shopping mecca has something for just about every one. Shops at the Coconut Marketplace offer a variety of merchandise and services including clothes, jewelry, beauty salons and many more. Tourists will have a field day scouring the great selection of resort wear, keepsakes, souvenirs. There are also a myriad of restaurants offering specialties such as steaks, fastfood fares, ice cream and many more!
The open air music kiosk offers free nightly entertainment starting at 5pm.
With good prices and free Hawaiian music playing while you are shopping or dining, you won't be disappointed at the Coconut Marketplace!