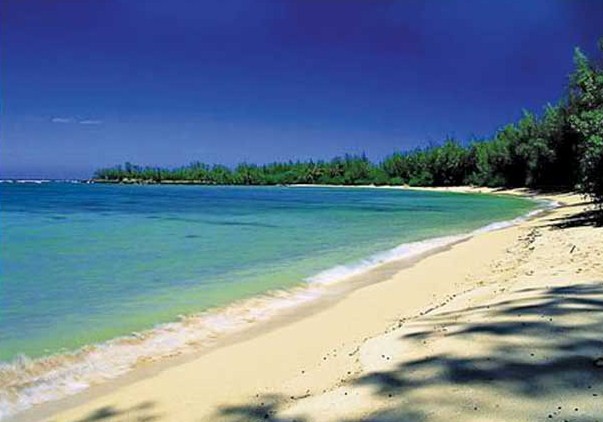 Kawela Bay, also known as Turtle Bay, is a secluded sandy beach on the northeastern tip of Oahu, Hawaii. It is a popular venue for picnics, swimming and fishing.
The bay is protected by a large reef which keeps nearshore waters calm year-round and diffuses high waves during winter months. The long crescent beach is perfect for beach-combing and sunbathing. Beyond the reef are s couple of popular surf sites but the currents here can be strong and dangerous even to experienced surfers.
Years ago, honu (turtles in Hawaiian) were often seen coming ashore to lay their eggs in the sand, hence the name Turtle Bay. The creatures are not as abundant as before but a few can still be sighted from time to time. During periods when the water is not murky, the bay provides excellent snorkeling with little current movement.
The entire length of Kawela Bay used to be dotted with private homes but in 1986, all residents from the east point to the center were evicted to make way for a resort development which didn't push through. At present, the property along this part of the bay remains undeveloped. A few houses remain on the bay's west end.
There are no facilities in Kawela Bay. There are also no lifeguards on duty. To get to the bay, walk along the shore from the Turtle Bay Resort. It takes about 20-30 minutes to reach Kawela Bay.