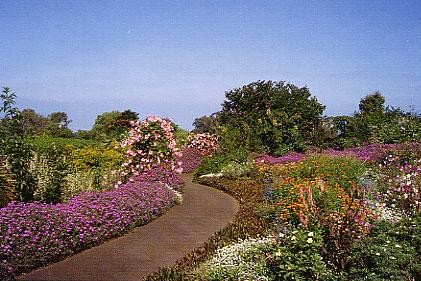 The Enchanting Floral Gardens of Kula in Maui is an 8-acre botanical garden located at 2505 Kula Highway (Highway 37), in Kula, Maui. It is open daily, 9:00am to 5:00pm, with an admission fee ($5 per adult). The garden, which sits on a land 2,500 feet (760 m) above sea level on the slopes of Haleakala, is home to more than 2000 species of tropical and semi-tropical plants from Hawaii and other parts of the world.  It has an extensive collection of fruit trees and flowering plants including hibiscus, orchids, and proteas.
The Enchanting Floral Gardens of Kula has become a perfect rest point for tourists on their way to or from the Haleakala Crater. A Maui vacation is not complete without a stroll through the magnificent gardens and enjoy the sweet scent of the flowers and fruits as well as to relax and take in the incredible views from Upcountry Kula.
How to get there Just drive along Highway 37 and look for the sign right across from the 10 mile marker.